publishing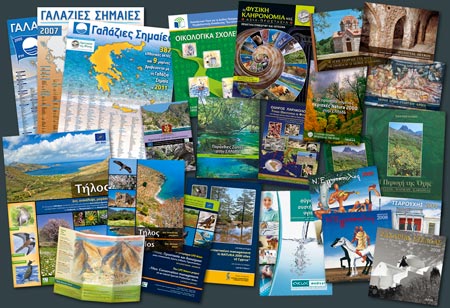 Since 1995, I have been designing and producing books, leaflets, posters and other printed material. I usually execute and oversee all the stages of a publication production from the concept design to the finished product. I can design your logo and help you build your corporate identity and also assist you in efficiently implementing your marketing goals regarding design and printed material.
My love for books dates well before my professional practice. I've had the chance to design and produce some wonderful books for which I am proud and thankful to all those people that always need to contribute for a book "to be born". My involvement with environmental issues and nature conservation since the 80s has led me to "specialize" in environmental projects.
For more than fifteen years now I have been working in many projects with the Hellenic Society for the Protection of Nature for which I have been designing and producing not only it's quarterly publication "η φύση" ("i fisi" = nature), but also the material for The Blue Flag program and numerous books, leaflets etc.
I have also had the chance to work with companies OIKOS and OMEPE in a series of environmental centers across Greece, with the National and Kapodestrian University of Athens, the University of of Ioannina, with the Hellenic Centre for Marine Research, the 23rd Ephorate of Byzantine Antiquities and with companies like Grecotel, Pechiney Hellas, AirLiquide Hellas, Radio Korasidis, Brainstorm Software, Biometrix, Kyklos medical, Harta, Ilivaton e.a.
Selected Projects Gallery